Popular New HK Hotel on Lantau with Chapel and Moored Tall Ship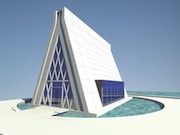 The Chapel.
Enlarge this image
Enlarge this map
Auberge is a new hotel in the Discovery Bay development on Lantau, Hong Kong's largest island and the site of Hong Kong International Airport. Although Auberge only began a soft open in mid-April, it has already garnered popularity among travelers.

Discovery Bay, a 25-minute ferry ride from Central, is near downtown Hong Kong yet maintains a living environment flush with greenery, making it a favorite among Western residents. On one of the district's lots stands the new 325-room hotel. The guestrooms include 64 suites and 40 ocean front suites, each containing one to three bedrooms. All rooms, designed with a blue motif, occupy the sixth floor or higher and feature an expansive view of the South China Sea and mountains.

Cafe bord de Mer, the hotel's restaurant, has a multinational menu including Asian fare, plus terrace seating facing the ocean. The Bounty, a replica of Hong Kong's only European tall ship, is moored next to the hotel at an outdoor event venue.

One notable building that appears to be a pyramid when espied from afar is actually a chapel. At weddings here, the bride and groom ride to the chapel on a horse-drawn carriage and join the ceremony in natural lighting streaming in through the glass panels.

Auberge Discovery Bay is now running a summertime promotional campaign with rates of around HK$1,240 a night for a room. The deal comes with a buffet breakfast for two and late check-out at 3:00 p.m.